This post on Rhonda Patrick's skincare products covers the following:
The topical serum Rhonda likes and has used since 2012 – packed with hyaluronic acid, willow bark extract, aloe vera + other good stuff.
How and why Rhonda supplements hydrolyzed collagen powder for her skin.
The mineral based sunscreen Rhonda uses – rather than use sunscreen containing potentially carcinogenic compounds.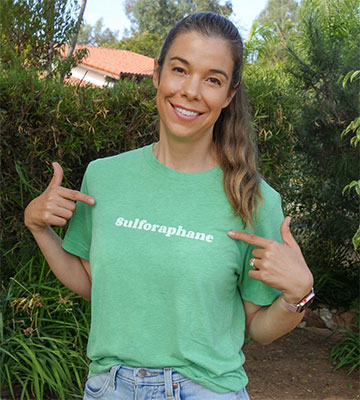 Topical Serum
Rhonda uses a topical serum called Cellbone Neutralizer, which is described as a PH balancer.
She applies this to her face after washing, and finds it has an immediate skin plumping effect – helping to hydrate the skin.
She mentions in her April 2022 Q&A that she has used it since 2012.
Collagen
Rhonda notes in her April 2022 Q&A that she continues to use hydrolyzed collagen to benefit her skin, hair and joints. She consumes it by adding it to her smoothies, coffee and sometimes tea.
If you're familiar with the phrase collagen peptides; hydrolyzed collagen is the same thing. It's produced by a process called enzymatic hydrolysis, where collagen is broken down into smaller chains of amino acids that are more easily absorbed by the body.
She explained that when she stopped taking collagen she saw a noticeable (negative) difference in her skin, so she tries to take it regularly.
In her June 2021 Q&A she mentions using both Great Lakes Collagen and Vital Proteins Collagen.
For more info on collagen and skin, complete with study references, see Rhonda's topic page here.
Sunscreen
Rhonda chooses to use mineral sunscreens and avoids chemical sunscreens, mostly as a result of a randomized controlled trial that found 4 common chemical sunscreens (avobenzone, oxybenzone, octocrylene, and ecamsule) are absorbed into the bloodstream at much levels higher than the FDA's potential toxicological threshold1Effect of Sunscreen Application Under Maximal Use Conditions on Plasma Concentration of Sunscreen Active Ingredients – Matta et al. (2019). These levels then stayed elevated for up to 3 days.
It's worth pointing out that in the study they put the sunscreen over the whole body – which is what they mean by 'maximal use conditions'. You can imagine this is an extreme example, whereas often we might just put sunscreen on the face, neck and arms – leading to much lower concentrations of these chemicals accumulating in the blood.
Rhonda notes in this Instagram post that it's still unclear whether these ingredients have harmful effects on humans, but she'd rather avoid them until more data is published.
Additionally, Rhonda tweeted a study regarding two compounds found in sunscreens and cosmetics, called oxybenzone and propylparaben, which were found to cause DNA damage to breast cells in culture and in mice2Effects of Benzophenone-3 and Propylparaben on Estrogen Receptor–Dependent R-Loops and DNA Damage in Breast Epithelial Cells and Mice – Majhi et al (2020). Whilst this study wasn't performed in humans, it does raise questions on their human safety with long term usage.
Responding to questions on Instagram, Rhonda noted that she currently uses Coola mineral sunscreen – but has no affiliation with them.
An avid sauna user, Rhonda notes that saunas increase "transdermal absorption", that is, the absorption of chemicals via our skin. Whilst mineral sunscreens don't contain the aforementioned chemicals, they still contain compounds she would rather not increase absorption of. Thus she makes sure to wash off her mineral sunscreen prior to getting in the sauna.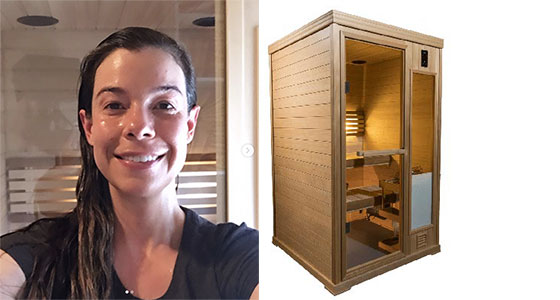 Round Up
Above we've covered the skincare products Rhonda uses. If you've got any questions or comments, please leave them below.
Further Reading
If you enjoyed this Rhonda Patrick post, you may also enjoy these:
A long post on Rhonda's diet – including examples of her breakfast, lunch and dinner (link)
A comprehensive list of supplements that Rhonda takes (link)
Rhonda's approach to exercise, and the science around different types – e.g. aerobic vs anaerobic vs weight training (link)
References