Rhonda currently takes an omega-3 supplement called Norwegian PURE-3, which is touted as a high quality fish oil with low levels of oxidation. It comes in 2 versions; high DHA and high EPA. Rhonda alternates back and forth between the two, taking high EPA one day and high DHA the other.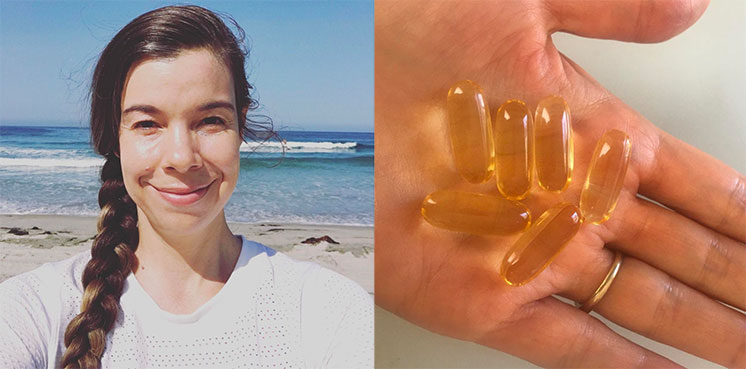 Rhonda's Dosage: 6 capsules/daily of NPure-3 – alternating between high EPA & high DHA
Unfortunately this particular product (Norwegian PURE-3) has been unavailable for online order for some time. Rhonda has said she personally has lots of the product stockpiled. Which is great, but what about those who don't? Rhonda was asked in her June 2021 members Q&A what alternatives she would suggest…
Norwegian Pure-3 Alternative?
Rhonda's alternative suggestion is to check labdoor.com and the International Fish Oil Standards (IFOS) site to find good products. Both sites have tested a lot of brands for purity, heavy metals, oxidation + more.
She specifically noted that Carlson's Maximum Omega 2000 product scored well in the IFOS tests.
Using the 3 reports available at the time of writing, the average total oxidation (TOTOX) for the product is 4.35 For perspective, IFOS consider a TOTOX of under 19.5 a pass. So 4.35 is significantly under their target. Comparatively, in a 2015 study (link) of retail fish oil products, out of 134 tested, the mean TOTOX value was 37 (!) (see table 3 of the study).
You can check the test results yourself by going to its IFOS product page, and then downloading each batch report.
The astute reader may notice that Maximum Omega 2000 has a different ratio of omega-3s to NPure-3, as laid out in the table below. It's most similar to to NPure-3's EPA product.
| | | | |
| --- | --- | --- | --- |
| Per 2 capsule serving | Maximum Omega 2000 | NPure-3 EPA | NPure-3 DHA |
| EPA | 1,250 mg | 1,000 mg | 400 mg |
| DHA | 500 mg | 400 mg | 1,000 mg |
| Other omega-3s | 250 mg | 300 mg | 300 mg |
Carlson don't do a sister to the Max Omega 2000 product which is high in DHA – but if you want to emulate Rhonda's approach of alternating between high DHA and high EPA days, you could add in Carlson Elite DHA product, which provides 1,000mg of DHA per capsule (but with zero EPA). Based on the IFOS testing the total oxidation value for the DHA product comes in at 9.
Omega-3 Phospholipids, Alzheimer's & APOE4
This next section is mainly relevant to those with the APOE4 gene. It's estimated that around 25% of the population have it. You can check this by getting a 23andMe test (their cheaper ancestry test is sufficient) – and then exporting the raw data they provide into Rhonda's genetic report or to Promethease. 23andMe's more expensive health package should include APOE4 testing.
APOE4 increases Alzheimer's risk between 2-3x if you've 1 allele and 15x if you've 2 allele's.
One of the reasons for the increase in Alzheimer's risk with APOE4 is that it impairs regular DHA transport.
In 2018 Rhonda published an open access paper on a possible mechanism for getting DHA into the brain, which bypasses the impaired route.
Rhonda's paper proposes that consuming DHA in phospholipid form gets around impaired DHA transport. The reason for this is that phospholipid DHA gets converted to DHA-lysoPC, by a specialized transporter called MFSD2A. This transport system appears to continue to work even when regular DHA transport is impaired.
Providing DHA to the brain again, in the form of DHA-lysoPC, may reduce Alzheimer's disease risk.
According to Rhonda, omega-3 phospholipids are found in fish, and in greatest concentration in fish roe (fish eggs).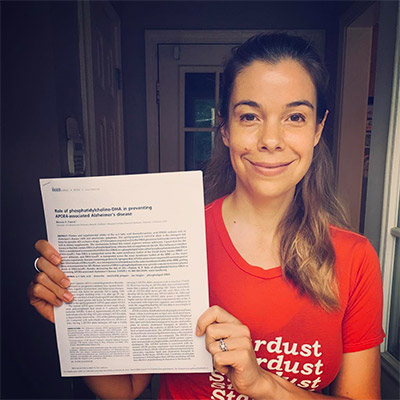 Rhonda displaying her paper on mitigating APOE4 induced Alzheimer's disease risk
Where Rhonda gets her Omega-3 Phospholipids from
Rhonda currently gets hers via wild salmon roe caviar, instead of using a supplement version. She bulk buys her caviar from Vital Choice, who offer it in 2.2lbs packages that can be frozen, and then defrosted one quarter at a time. Consuming this in addition to her regular omega-3 supplementation.
She opted for the salmon roe caviar instead of her previous omega-3 phospholipid supplements, as she learn it was superior. The prior supplements were a herring roe extract made by Nordic Naturals, and before that, Krill oil.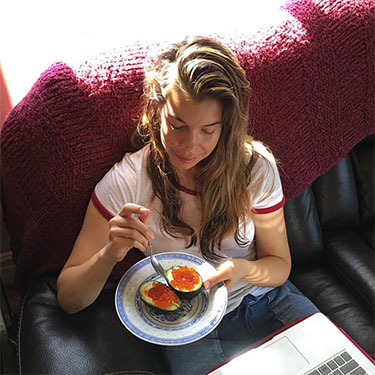 Omega-3 Benefits
Above we discussed the omega-3 fatty acids Rhonda is taking, but before we round off, I want to do a quick overview of the benefits.
Omega-3 oils, EPA & DHA, are essential fatty acids. Specifically, they are incorporated into cell membranes all over the body, but are particularly concentrated in the brain and eyes (retina). They are also vital to processes that mediate lipids, which can be beneficial in the prevention of several diseases. And are essential for proper fetal development and healthy ageing. You can read more on their role here.
– – –
For more Rhonda Patrick related content, see below: